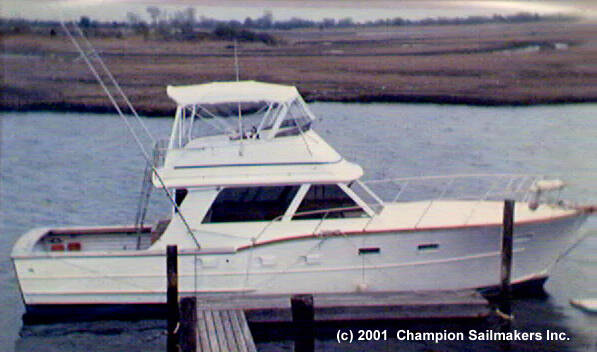 This beautiful classic was outfitted with an enclosure from Champion. Notice how many 'lines' of the boat were followed to 'tie-in' the canvas. Also notice the Champion trade mark of having forward standing rods as well as stainless steel sway rods for a rigged structure worthy of this boat. Convenient zippers were installed into the pockets of the top to provide easy removal of the canvas off the frame. Optical clear vinyl windows and 10mm zippers were installed into all four sides of the enclosure.
History of this boat...
This is a 42 foot Colonial built in ??? After a complete restoration from a local craftsman, it came to our dock for the canvas work. The boat was brought in on Tuesday and work was completed by Saturday of the same week. All of the stainless steel was constructed on location to match the shape of the boat. The boat sold shortly after completion.
To order, call: (516) 378-1818
Click links to the left to see another Fly Bridge Enclosures.