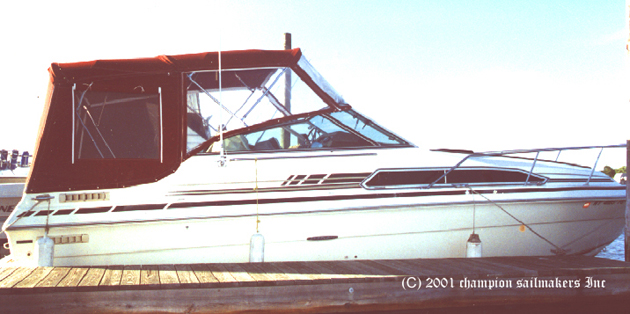 27' Sea Ray canvas set shows proper design can improve the look of the boat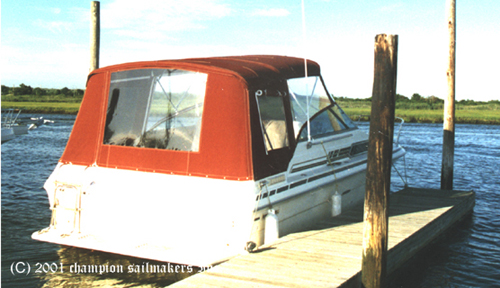 Designing this canvas was challenging. The boat came to my dock with a very low navy top. The owner, 5'9'' tall, wanted to be able to stand at the hem while piloting his boat. Because the boat had an aft cabin, there was a step up to the helm of 9 inches. The windshield was too steeply raked for me to match, so careful planning had to be done.
Starting with the bimini top, I designed it very flat using 4 bows in the framework. Giving him 5'10'' head room, I angled the top to slope down in the back. Continuing that slope, I added a removable cockpit awning (or the top to the camper). Because it was a "V" windshield, I made the front connector in 2 sections. Side curtains were then added on both the tops. Then a removable back drop with a zipper door by the walk-thru transom door.
The owner of this boat had the option of having clear flaps over the screens or fabric privacy flaps. In this case he chose privacy flaps.
Originally, trying to decide whether to buy a new boat or to add a custom canvas, the owner ultimately made the right decision.
To order, call: (516) 378-1818