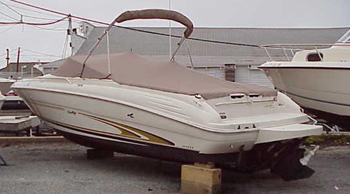 As you can see from the Sea Ray shown above, an over windshield mooring cover offers full protection to the cockpit area from all of the elements, including sun and rain. Notice it differs from a regular windshield-aft cover in that it snaps to the base of the windshield. Only the finest materials can be used in making these types of covers because of their size. Even the slightest shrinkage can cause major grief. The covers require extra reinforcements, partially along the windshield. Cut outs, as shown, can be made to accommodate a bimini or navy top at owners request. Support polls, as shown, are included when required to help shed off rain. Other possibilities other than support poles are shock cord on the aft side.
These type of covers are very popular with performance boats. Besides the benefits mentioned above, some boats do not have a windshield that can accommodate snaps and therefore get this type of cover. Other boats get this type of cover if they have a wind ferring to avoid a fade line from the sun.
Whenever possible, Champion Sailmakers always tries to match up to any existing snaps in the boat.
To order, call: (516) 378-1818
Local Boaters Information
Fishing reports