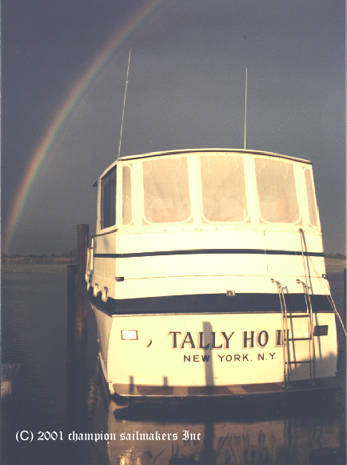 The Tally Ho. A classic Chris Craft with major alterations made to it by a local craftsman. The owner wanted an aft enclosure made with optical clear vinyl that up-zip with screens for ventilation. He wanted everything to be made out of white materials for a clean look.
The first thing we did was of course was the design work. Keeping the boat symmetrical from port to starboard was important. Also, small sections were required on the sides so they could be firmly attached to the sides of the boat. Next, materials were selected. Sunbrella(R) marine fabric was not used in this case due to the color choice. White Sunbrella(R) shows too much dirt. The best choice in this case was a heavy Dacron cover cloth (similar to sail cloth only much heavier). It's long lasting and cleans up better. The clear vinyl windows are .030 optical clear vinyl. This grade of clear vinyl is perfect for these larger boats located in the northern climates. Heaver clear vinyl tends to shatter in clod temperatures and discouraged in the New York area. Finally, the screening used is a white, woven Dacron material. It provides excellent visibility when view straight on, yet blocks light when viewed on an angle (as shown).
The rainbow in this picture is real. The photograph was taken from the back of Champion Sailmakers. We strongly believe that Hudson canal really is the most beautiful canal in Freeport.
To order, call: (516) 378-1818
Local Boaters Information
Fishing reports