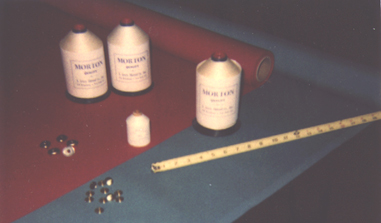 Champion Sailmakers uses only the finest materials. We mainly use three different types of fabric depending on application. Click on any of the three fabrics below for more color choices (if available)or an enlargement.

Sunbrella(R) is the most common fabric used. The fiber content is acrylic which is generally holds up against sun rot for about 10 years (actual life may vary). We highly recommend this fabric except in certain instances such as when white is requested.

Dacron cover cloth is an excellent choice for enclosures. Being a pure fabric without a vinyl coating, it does not shrink. It only come in white, yet it keeps much cleaner than Sunbrella(R).

Vinyl coated Dacron is another good choice when white is requested. It's excellent for boats that are used for fishing because it cleans up well. It is available in white and beige.
CLICK HERE FOR CARE INSTRUCTIONS